INSTRUCTIONS
1: Operators go through training posts, are familiar with equipment performance and practices. Wear glasses when working, to prevent from injuries by broken blades.

2: Assures blade installation fastened to prevent from slipping. Periodical check the function of the machine, the vertical jump is less than ±0.02mm, and the swing is less than ±0.01mm.

3: Should have good mechanical properties, no swing, spindle leveling without deformation, shaft tolerance does not exceed h7.

4: Install the protective cover when install the blade machinery equipment, to prevent damage to the saw blade. Sawblade should be 5-6 teeth higher than board surface.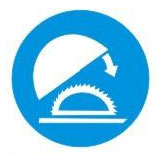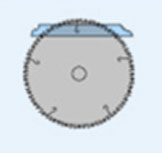 5: Installation saw blade, use only the equipment suppliers provided, ensure clamping device firmly fixed. Flange diameter should be adapted to the blade, diameter size should be 1/3 slightly larger, thin film flange diameter should be 1/2 of the blade.
6: Blade and flange keep clean, smooth, ensure the surface is no abnormal wear, deformation and foreign body attached.

7: Saw blade assembly in accordance with the rotation direction of the arrow indicated on the saw blade, if opposite direction, will cause cutting head losses and accident. Beat blade body is strictly prohibited.


8: Confirm saw blade fit to cut selected material, to prevent the saw from inordinate wear, alloy off, bad cutting, overheating and other anomalies.
9: Replacement saw blade, idle running for five minutes before using, check whether the equipment vibration, whether the saw blade have transverse and radial runout and other anomalies.
10: If the blades cutting insensitive, they should be promptly grinding. Grinding should choose the right diamond wheel and professional cutting fluids. Does not recommend the use of hand-grinding machine, do not change the original blade sharpening angle.
11: According to the requirements of the feed rate of the device work. Do not exceed the maximum blade speed and feed rate for feed.
12: Alloy grinding for front angle and relief angle in accordance with the proportion of 1:3 when it needs grinding. If only grinding the front, it will shorten the life of the blade, the entire abrasive wear area should be fully grinding.

13: Does not recommend ream more than 20mm of the original diameter when reaming inner bore, otherwise it will cause the saw blade tension imbalance, affecting the cutting effects and precision.